About SAYEZA

SAYEZA was born out of a desire to offer unique items with an Asian influence on our customers.Our journey began in 2014, and since then, we have been the leading providers of henna tattoos as well as a distinctive selection of fashion items.

We are passionate about bringing creativity to personal style in a way that is individual, yet representative of the Asian culture. We believe that when creatively merged, the Asian and Western cultures produce such a distinct elegance, which gives you the creative freedom to express your inner style.

Each of our pieces tells a story about far off lands with rich traditions and ancestry. They tell of brides and family and the passion of skilled craftspeople. Every piece is packed with two things in mind:


The Art of Henna Tattoos

Our expertise in henna tattoos is not just about the application; it's an art form that tells a story. Each design is a testament to the age-old traditions of far-off lands, echoing tales of brides, families, and the fervor of masterful artisans.

Our henna artists, led by the talented Saima Javaid, are dedicated to ensuring that every tattoo is a masterpiece, reflecting the individuality of the wearer while paying homage to its Asian origins.

Bridging Cultures

While our heart beats for the Asian culture, we recognize the beauty that emerges when it intertwines with Western influences. This fusion results in a distinctive elegance, granting you the liberty to showcase your inner style. Whether it's our henna tattoos or our curated selection of fashion items, each piece is crafted keeping two core principles in mind: a profound Asian touch and the adaptability to blend seamlessly with contemporary Western aesthetics.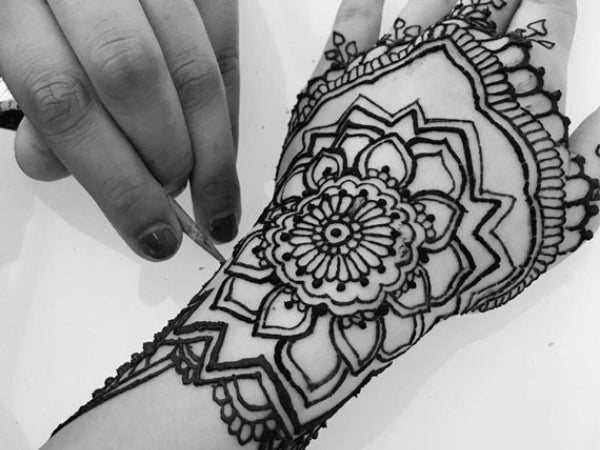 Why Choose SAYEZA?

Unparalleled Quality: Our commitment to excellence ensures that you receive nothing but the best, be it our henna services or fashion products.

Free Shipping & Easy Returns: Enjoy free worldwide shipping on orders above $100 and hassle-free returns within 7 days.

Customer Satisfaction: Your satisfaction is our priority. If our products don't meet your expectations, we offer a full refund.

Join us on this journey of cultural amalgamation and self-expression. At SAYEZA, we don't just offer services; we offer experiences that stay with you.
Henna Artist
Saima Javaid
Saima, a vibrant artist from Waterford, adorned her journey with the fusion of two worlds - business and the allure of henna tattooing. Armed with a Bachelor's in Business from WIT and a diploma in fashion from the esteemed Kildare Institute of Design, her path was destined to be as colorful as her intricate designs.

Embracing her roots, Saima's passion for her craft blossomed, weaving the rich tapestry of her cultural heritage into the contemporary canvas. She fearlessly ventured into the realm of temporary tattoo artistry, seamlessly melding the elegance of henna with the bold, modern flair of the Western world.

Amidst the hustle and bustle of Dublin's dynamic art scene, Saima found her niche, captivated by the challenge of creating unique, culturally infused designs that resonated with the diverse tastes of her clientele. With every stroke of her brush, she celebrated the harmonious convergence of tradition and innovation, leaving an indelible mark on the tapestry of Dublin's creative landscape.