Expert Bridal Henna Artist
Henna Tattoo Service Ireland - Travel To Your Desired Venue 

At Sayeza Henna Artistry, we understand that your wedding day is a cherished moment, a day when every detail should reflect your unique style, culture, and personality. That's why we're thrilled to present our exquisite Henna Tattoo services tailored specifically for Asian weddings. Elevate your wedding experience with our intricate and stunning henna designs that fuse tradition with contemporary artistry.

Our henna tattoo services offer a blend of time-honored tradition and contemporary flair. We deeply respect the cultural significance of henna in Asian weddings and seamlessly integrate it into the modern wedding landscape. We specialize in creating designs that honor your heritage while aligning with your vision for the perfect wedding.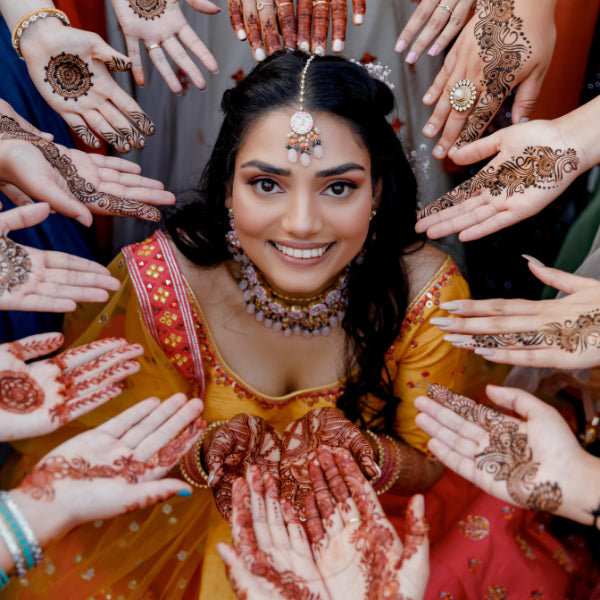 Say "I do" to unforgettable henna artistry. Contact us today to book a consultation or inquire about our services. Your wedding deserves nothing but the best, and Sayeza Henna Artistry is here to deliver henna memories that will be etched forever. Elevate Tradition. Embrace Elegance. Experience Sayeza Henna Artistry.
When it comes to choosing your henna tattoo design, we will work with you during the design selection process, providing you with design books & a range of different finishes to choose from. Already have a specific design you will like us to use instead? Show us this design and we'd replicate it in no time. Want us to create something original and unique? We are equipped to do that too!



● Diamond Bridal Henna
Very full, intricate & traditional henna, covering hands, arms, to the elbow and feet & leg. Time required 7-9 hrs, depending on the intricacy of the design. Prices vary between €560-€720.

●Emerald Bridal Henna
Full intricate coverage of hands,arm & leg. Time required 5-7hrs depending upon the intricacy of the design. Prices vary between €400-€560.

●Pearl Bridal Henna
Some coverage of hands and partial wrist & feet. Simple mandala or strip designs for an elegant glimpse of Henna for the bride. Time required 2-5 hrs, depending upon the intricacy of the design. Prices vary between €160-€400.

●Sapphire Bridal Henna
Simple detailed hand designs for front and back of both hands. Time required 2-3 hrs Price €250-€280.