Exquisite Khussa shoes designs you can step into this year!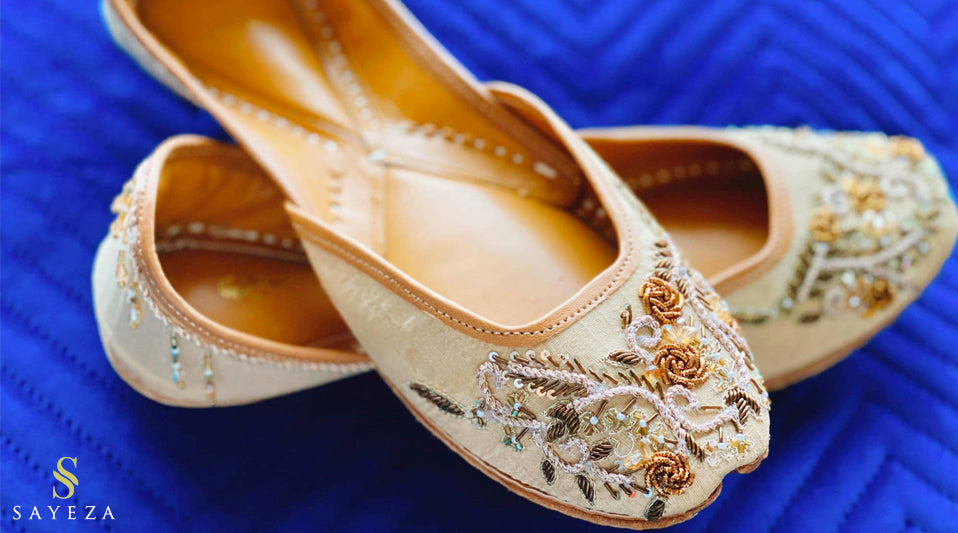 Asian Khussa shoes coming in fancy styles have emerged as a trending accessory for the fashionable. Especially for party events, women love to adorn their feet with stylish khussa slippers. This presentation is to enlighten you about how to match your grand khussa shoes with different dress colour combinations.
Fancy Khussa shoes designs!
The way you move is dictated by your shoes. It adds beauty to your overall apparel and is preferred when comfortable. Fancy khussa shoes designs come in different styles, embellishments, adornments, intricate embroidery and striking colours from the palette.
This ethnic leather and textile hand-crafted footwear is the style icon for the 21st century women mainly because it is both comfortable and stylish. On wedding ceremonies and mehndi functions, ladies of all ages love to wear this luxurious shoe to complete their attire.
Golden fancy khussa shoes designs
One of the most trendy and magnificient khussa shoes comes in golden colour. This hue is a perfect blend with every dress colour. If you are going to attend a wedding event, you can definitely choose a flat golden khussa shoe adorned with shimmery pearls, stones, beads and overall intricate embroidery.
Red fancy khussa shoes designs
Glamorous red khussa designs are attractive and stunning. Fancy red khussa embellished with stones is sure to make you stand out from the crowd!
If there is an upcoming party event and you have in mind a lehenga choli, kurti with lehenga, saree or some other mehndi dress, you can most certainly pair them with red khussa, heavily embroidered and enriched with gemstones and beads.
Black fancy khussa shoes designs
Black being a versatile colour matches with all dress colours. Plus, if you are wearing that charming black dress of yours, don't forget to match it with lavish and sensational black khussa shoes! If your party dress contains a combination of black and golden, you can choose a black khussa with golden embroidery. The embroidery choice can be similarly made if there are other colour combinations.
Kundan khussa shoes are yet another rising favourite to flaunt during wedding ceremonies and traditional occasions. The right pair of shoes can not only enhance the feel of an outfit but can also uplift the confidence of the woman wearing it. So, wear confidence on your feet and look phenomenal in Asian khussa footwear of various styles! This has been a forever favourite of the stylish and the voguish.